Commercial storage shelving, a solution for your stockroom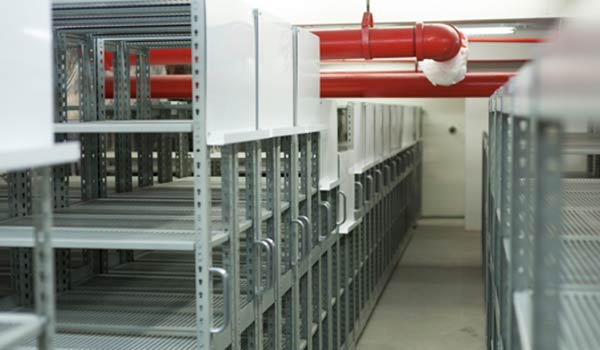 Are you looking for an efficient, optimized storage solution for the back room of your store? Do you have a drastic shortage of storage space in your stockroom, hindering your ability to meet the demands of your customers? Does your current commercial shelving system take up too much space?
Are you familiar with the mobile shelving system from JUL Solutions? Regardless of your line of business, whether you're the owner of a retail clothing store, shoe store, sporting goods store, online shop, wholesale outlet or even a garage, the commercial shelving systems designed by JUL Solutions are the key to optimizing your storage space.
Why choose commercial mobile shelving from JUL Solutions?
Many owners of retail shops and other businesses would like to reduce the square footage of their stockrooms while maintaining the same volume of space for their inventory. JUL Solutions, a family-owned-and-operated Quebec-based company in business since 1973, can satisfy all your needs when it comes to optimizing your stockroom. How? With a custom commercial mobile shelving system.
The design analysts at JUL Solutions can advise you regarding the most suitable commercial storage shelving, depending on your requirements and the layout of your stockroom. No matter where you are in Quebec or the Maritime provinces, our professionals will come to your location to offer you a comprehensive, personalized solution. They'll even take the time to give you a detailed explanation of the possible results.
Thanks to a commercial mobile shelving system from JUL Solutions, you'll be able to maximize and optimize your stockroom, increasing your current storage space by up to 60 percent while facilitating access to all your products. With a mobile storage system, you'll be able to utilize your space more efficiently and economically, as your inventory will take up less room.
JUL Solutions has installed commercial mobile shelving systems in numerous businesses, including Adidas, Hudson's Bay and Holt Renfrew. Even garages have opted for this solution to store their clients' tires during the off-season.
Commercial mobile shelving, the optimal solution for your stockroom
The ingenious mobile storage systems from the JUL Solutions JulMobile product line include various storage solutions you can readily employ in your stockroom. Here are the principal types:
Lateral mobile shelving: these shelving units enable you to move the front shelves aside, permitting easy access to the rear shelves, which are affixed all along the wall. A simple push is all it takes to move the mobile front-row shelves to the left or the right.
Manual mobile shelving: these shelving units enable you to move the front shelves forward and backward with the aid of a fixed handle. This heavy-duty shelving can support loads of up to 1,500 kilos per linear meter (1,000 pounds per linear foot).
Mechanical mobile shelving: in this mechanically assisted storage system—which is our most popular—you can move the shelves with a simple turn of the rotating handle. This activates the drive mechanism, enabling you to move even the most voluminous shelves with ease.
Don't hesitate to entrust the optimization of your stockroom to the experts at JUL Solutions. Contact them today!